Croatian Case-Law on the Twin Regulations and the Succession Regulation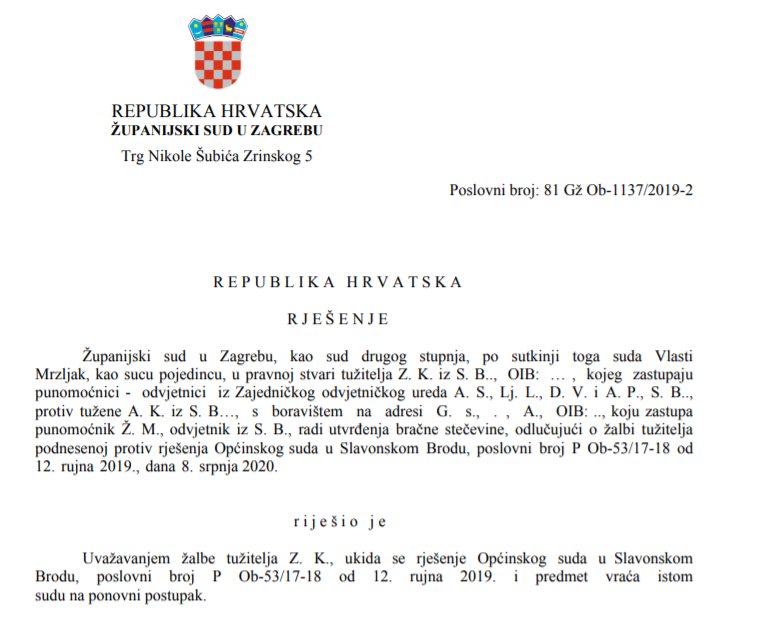 The Regulation 2016/1103 on matrimonial property regimes and the Regulation 2016/1104 on property consequences of registered partnerships, often referred to as the Twin Regulations, entered into force on 29 January 2019. In a few judgments rendered up until today, which concern Regulation 2016/1103, the issue is mostly that of the application in time. In one of the judgments (Gž Ob 1137/2019-2 of 8 July 2020), deciding on the plaintiff's appeal that the Croatian court should declare itself competent based on provisions of the Regulation 2016/1103, the County Court in Zagreb correctly concluded that the case does not fall into the temporal scope of application of the Regulation 2016/1103, given that the proceedings were instituted on 8 March 2017.
On the other hand, the Succession Regulation 650/2012 has been in force for almost six years since 17 August 2015. The examples of Croatian judgments on Succession Regulation are thus slightly higher in numbers compared to the Twin Regulations. Among the publicly available judgments rendered by Croatian courts one (Gž-191/15-2 of 19 July 2017) relates to the temporal scope of application of the Succession Regulation in which the County Court in Varaždin indicated that the Succession Regulation does not apply since the testator died on 26 August 2007. The remaining matters, were covered by the temporal ambit of the Succession Regulation and Croatian courts proceeded in those matters pursuant to the provisions of Succession Regulation on international jurisdiction and/or applicable law.
di Danijela Vrbljanac
30 June 2021