"WHAT LAW FOR THE PROPERTY REGIME OF CROSS BORDER FAMILIES?" PRESTIGIOUS DEBUT FOR THE OBSERVATORY ON EUROPEAN FAMILY AND SUCCESSION LAW
Thursday 26 November 2020, from 5.30 pm, prestigious debut for the Observatory on European family and succession law. Thanks to the collaboration of the Comites of Munich, a representative body of the Italian community, directly elected by the Italian community residing abroad, the future activities of the Observatory will be described during the meeting "What law for property regime of cross-border families? ". The meeting will be opened by the greetings of the Min. Plen. Enrico De Agostini, Consul General of Munich, and the President of Comites of Munich, Daniela Di Benedetto. After that, Professor Lucia Ruggeri, Director of the School of Specialization in Civil Law at the University of Camerino, will give an introductory speech. Subsequently the two speakers will talk: Sandra Winkler, Associate Professor of Family Law, Faculty of Law of the University di Rijeka and Tereza Pertot, Adjunct Professor of Family Law and Succession Law in Europe, Faculty of Law, University of Trieste.
Alessandra Santonocito, Executive Member of Comites of Munich, will chair and conclude the proceedings.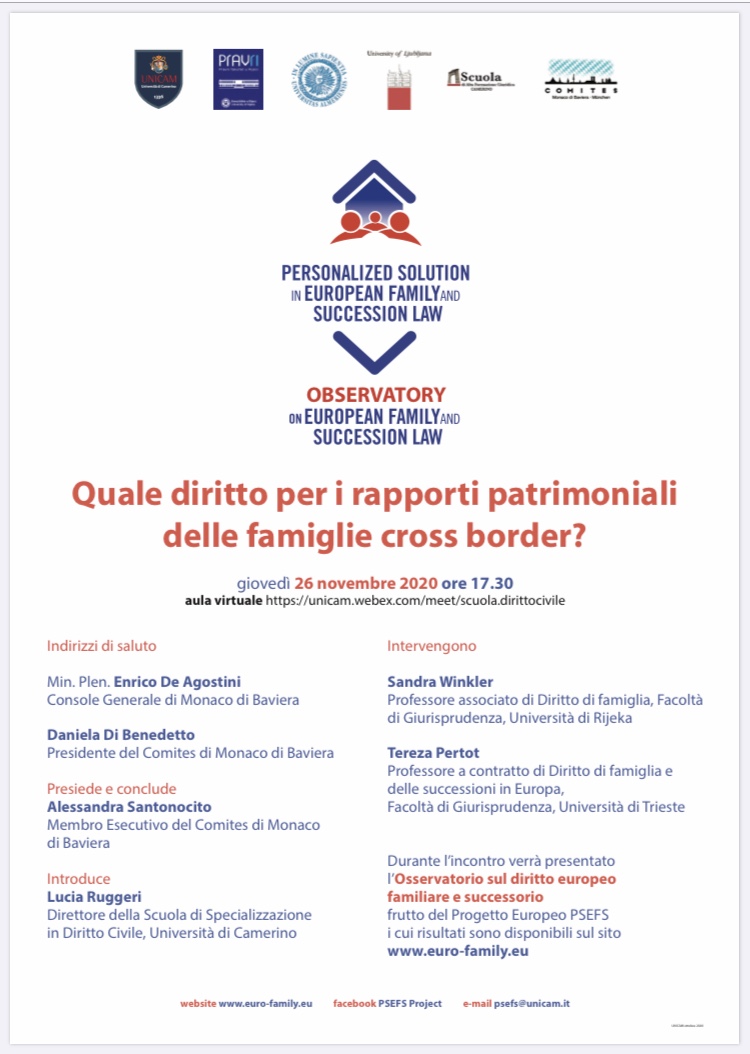 di Roberto Garetto
10 November 2020
Attached documents